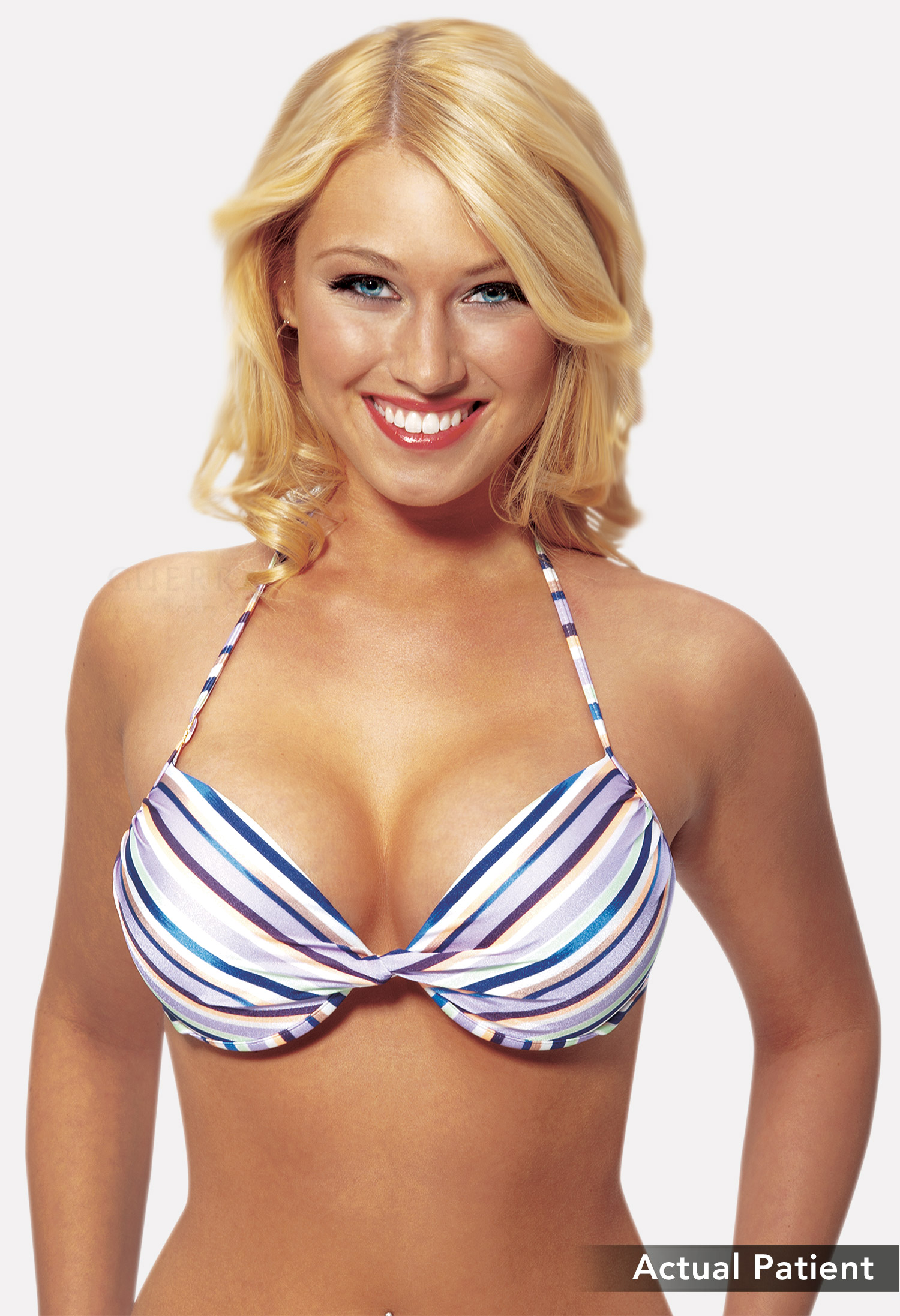 If you want to schedule a
breast augmentation
in Scottsdale, AZ, there is no better time than the present. Breast augmentation is one of —
if not the most
— popular cosmetic surgical procedure in Phoenix. Modern techniques and breast implant options deliver remarkable results, compared to the 50s when the procedure was new, controversial, and faulty.
Why Modern Breast Augmentation is Better Than Ever Before
Today,
you have several choices
when it comes to shape, material, size, and type of breast implant. Here at Guerra Plastic Surgery Center in AZ, among our priorities is to help patients understand how safe, effective, and life-changing breast augmentation is because of
recent advancements
.
The following benefits of modern breast augmentation make it easier than ever to look and feel your absolute best.
1. More Breast Implant Options
Saline and silicone breast implants
are the primary types of implants, with most women opting for silicone. Within this category, a few newer options are available. "Gummy bear" breast implants are one of which, featuring a revolutionary teardrop shape that mimics the contours of a natural breast. Women often prefer this
FDA-approved medical device
because they create a fuller look at the bottom, and tapers toward the upper part of the breast.
Round implants are another prime example of the different options you have in modern breast augmentation. Unlike gummy bear or anatomical implants, this variety achieves a fuller and more protruding appearance.
Furthermore, a breakthrough technology called high-strength cohesive (HSC) silicone gel is used to manufacture breast implants in the current era. And, although HSC is the strongest silicone available in the market, the breast implant remains natural-feeling and soft to the touch.
The takeaway here is that you now have more flexibility and possibilities to ensure a
regret-proof boob job
.
2. Results That Look Natural
For the longest time, people viewed breast implants as a way to get dramatic and jaw-dropping results. But for most modern women, the new goal of breast augmentation is to increase breast volume subtly and correct asymmetry. Beautifully enhanced, yet natural-looking is the desired outcome.
Choosing an
award-winning, board-certified plastic surgeon
proficient in breast enhancement options and trends is a surefire way to achieve the results you seek.
3. New and Improved Surgical Techniques
In addition to having a multitude of implant options, you can discuss surgical techniques — such as
incision type
and
implant placement
— with your plastic surgeon.
The most common area for implant placement is under the breast fold. However, your plastic surgeon can also insert a breast implant through an incision around the areola or armpit. Different incision methods play a role in concealing scars, as well as allows your surgeon to choose the location that works with your body type.
Bear in mind that an experienced plastic surgeon has an aesthetic eye that can help you determine which incision type and implant placement is best for your unique needs and goals.
4. Quicker and Easier Recoveries
There was a time when women would need to lie in bed and take several weeks away from work to heal from breast augmentation surgery. Today, recovery is faster than ever before. Within five to seven days, you may be able to return to your desk job and resume normal activities. Of course, some restrictions include limiting physical exertion. Regardless, being powerless and in bed for prolonged periods is not the case for many. Simply follow your surgeon's instructions on
breast implant care after augmentation
.
5. Modern Breast Implants Can Last for 10 Years or Longer
The reality is that saline and silicone-filled breast implants are not considered lifetime devices. Still, they are designed to be long-lasting. According to the American Society of Plastic Surgeons (ASPS), "patients can expect today's implants — the products of decades of research into stronger shells and more stable fillers — to last more than a decade."
Maintaining a good relationship with your plastic surgeon, preferably the one who performs your initial augmentation surgery, is an excellent way to prepare for the eventual need to replace or remove your implants.
6. There is Less Stigma About Breast Augmentation
With over
300,000 surgeries performed in 2018
, it is no secret that breast augmentation is one of the most sought-after cosmetic surgical procedures in the United States. Because of the 48 percent increase in surgeries since 2000, there is a high chance that many of your friends, colleagues, and maybe even family members have had the procedure.
In recent years, fewer people have been judgemental about the idea of plastic surgery. The negative connotation associated with implants is almost nonexistent, as more women embrace the truly transformative and confidence-boosting results.
7. Plastic Surgeons are Better Than Ever, Too
While most plastic surgeons in Scottsdale, AZ can say that they perform breast augmentation surgeries, not everyone specializes in the complex procedure. Therefore, it is recommended to find a licensed professional who extensively trained in breast enhancement surgeries, and performs them on a regular basis. Our very own
Dr. Aldo Guerra
, for example, is a highly-skilled breast surgeon offering the latest advances in technology. To learn more about him and our practice, we encourage you to read
Top Reasons to Choose Guerra Plastic Surgery Center for Your Cosmetic Enhancement Needs
.
Arizona's Leading Breast Surgery Specialist
Having practiced plastic surgery for more than 15 years, Dr. Guerra has become a respected authority in cutting-edge surgical techniques. After completing his training, he earned his board certification from the
American Board of Plastic Surgery
. Adding to his impressive resume is being Phoenix Magazine's Top Doctor in the April 2011 Issue, as well as being invited into the Mentor LEAD program as a top breast surgeon in the United States. His credentials show that Dr. Guerra has committed to upholding the highest standards of surgical judgment, expertise, and ethics.
If you are considering breast augmentation in Arizona, schedule your initial consultation by calling 480-970-2580. You may
fill up this online form
to request a FREE consultation as well. Dr. Guerra looks forward to creating a personalized surgical plan that meets your individual needs.