Extended Tummy Tuck Surgery
Learn about extended tummy tucks.
Extended tummy tuck procedures are designed to remove even more excess skin and fat than full tummy tuck, while tightening the six-pack tummy muscles in standard fashion. There are several versions of extended tummy surgery, which can be ideal procedures for patients after major weight loss surgery (usually less than 80 pounds lost) and patients who developed unusually large excessive skin and stretchmarks from pregnancy (usually from twins).
Extended Tummy Tuck at a glance
Average Length

3 - 3.5 Hours
Location

Certified Outpatient Surgery Center or Specialty Hospital
Recovery

Back to work 2 weeks
Full exercise 6 weeks
Improving the Experience

Overnight Stay
3-Day Pain Reducing Pump
Am I a Good Candidate?

Healthy
Non-smoker
No medical conditions that reduce wound healing
Have excess skin and fat in abdomen
Major weight loss patient
Body Mass Index (BMI) 32 - 35
Realistic goals and expectations
Tummy Tuck Recovery Experts
#1 Post-Op Team in Arizona
Since we specialize in extended tummy tucks and we have a top post-op team that will help you recover from your extended tummy tuck surgery and get you back to your normal routine ASAP. Headed by Dr. Aldo Guerra, one of the top extended tummy tuck plastic surgeons in Arizona.
Longer But Worth It
Extension of the full tummy tuck incision.
The procedure usually involves an extension of the standard tummy tuck incision to remove the extraneous amounts of excess skin and fat, wherever it may be found. Lipo or Liposuction is recommended to improve the contour of the body and is usually performed on the hips, love handles and flanks during an extended tummy tuck plastic surgery procedure.
No Body Lift Necessary
Tightening of the front and back.
We recommend a version of this procedure in patients complaining of excess skin in the tummy that also extends to the sides and is loose over the back of the hips. The incision is placed using the very low tummy tuck incision technique, however, instead of stopping in the region in the front of the hips, the incision continues into the back of the hips without going all the way and meeting across the lower back. This is the best procedure for simultaneously tightening the tummy as well as the skin in the front and back of the hips in patients who wish to avoid a body lift.
Make an appointment today with Dr. Aldo Guerra to discuss the extended tummy tuck procedure.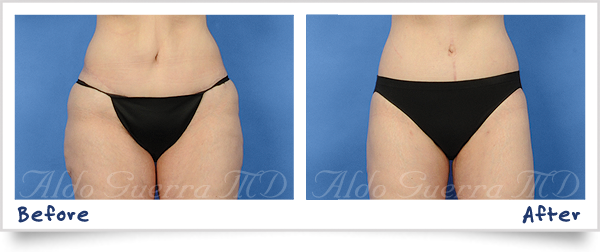 Fleur-de-Lis Tummy Tuck
Give patients more tummy tuck options.
A second version is recommended for patients that have more than expected excess skin in the front of the body, usually seen after gastric bypass surgery and in association with a vertical scar (from gastric bypass) in the middle of the tummy. In this procedure, the standard very low tummy tuck incision technique, is employed. The extension of the incision occurs over the previous mid-line incision, in a triangular shape, which allows the appropriate removal of excess skin, without the addition of other vertical incisions on the patient's body. This procedure is sometime called the fleur-de-lis tummy tuck by plastic surgeons.
Lost 80 Lbs. or More?
Consider body lift surgery.
When patients have lost more than 80 pounds, or the amount of excess skin is extreme and involves the buttock region, we recommend a body lift plastic surgery procedure. Please keep in mind that the tummy tuck procedure is not a treatment for obesity. Individuals who intend to lose weight should postpone all forms of body contouring surgery until they have been able to maintain their weight loss for a minimum of six months.

Sign Me Up
Schedule your personal consultation today!
Interested in an extended tummy tuck in Scottsdale?
(480) 970-2580 Call us today.
---