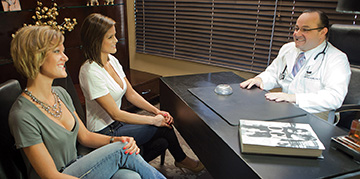 If you are dreaming of a beautiful and balanced hourglass body shape,
breast augmentation surgery
could be the perfect solution for you. Women in Arizona consider breast enhancement for several other reasons, including:
● Having breast asymmetry (uneven breasts).
● Being unsatisfied with the size and/or shape of the breasts.
● Wanting to correct loss of breast volume and other changes resulting from weight loss, pregnancy, breastfeeding, or natural aging.
● Aspiring to feel sexier, confident, and more feminine.
● Adding breast enhancement surgery as part of a mommy makeover.
No matter your reasons, remember to do your research before going forward with surgery. Allow Guerra Plastic Surgery Center to break down what you need to know about getting a regret-proof boob job.
How to Get the Best Breast Augmentation Results
This all-encompassing list is an essential guide for women embarking on their breast augmentation journey.
1. Do Choose Your Plastic Surgeon Carefully
Choosing the right plastic surgeon belongs at the top of the list because doing so is the most critical step toward great breast augmentation results. Because breast surgery is more popular than ever, there are hundreds of plastic surgeons in Scottsdale, AZ who offer the intricate procedure at their practice. Therefore, you must discern and select a surgeon who has the training, experience, and aesthetic philosophy that can deliver the results you want.
Look for the following traits in your plastic surgeon:
●
Board certification.
First, your plastic surgeon should be board-certified by the
American Society of Plastic Surgeons (ASPS)
. These professionals, which include our very own
Dr. Aldo Guerra
, commit themselves to extensive and more comprehensive education. Furthermore, they operate under strict standards for patient care and safety.
●
Experience.
Going back to the fact that there are hundreds of plastic surgeons in one city, many doctors are jumping on the breast implant bandwagon. Some of these "plastic surgeons," unfortunately, do not have any proper experience. Hence, it is crucial to determine their expertise in breast enhancement surgery. Ask questions about their previous operations, view before and after photos, and check their online reviews.
●
Personality.
Although a surgeon's skill and experience might be higher on your priority list than his character, do not underestimate the value of having a good rapport with your plastic surgeon. Having a positive connection with your surgeon plays a role in getting the best results possible. If you do not feel comfortable talking to your physician or feel as if he does not listen to you — find someone else with
great bedside manner
.
2. Do Take the Time to Understand Your Options
The most suitable breast implants for you go beyond size. Many factors influence how your results will look, such as:
●
Saline vs. Silicone.
Both
silicone
and
saline implants
are FDA-approved medical devices that can deliver remarkable results. However, each type offers a set of benefits and drawbacks. One advantage of saline breast implants is that a surgeon can insert them before getting filled, making it easy to adjust the size during surgery. Still, most women prefer silicone implants because they tend to look and feel more like natural breasts.
●
Round vs. Teardrop.
There was a time when all breast implants were round. Today, anatomical implants are available and becoming more popular. These
teardrop-shaped breast implants
are ideal for women who want to mimic the contour of natural breasts.
●
Smooth vs. Textured.
The implant shape you choose can determine whether you get smooth or textured implants. Generally, teardrop implants have a textured surface. Its outer layer (shell) adheres to surrounding tissues, which prevents the implant from rotating inside the breast pocket. Round implants, on the other, will not look any different regardless if they rotate in your chest.
●
Implant Placement.
The incision site and implant placement your plastic surgeon chooses can be a contributing factor in your desired augmentation results. At most practices, your options for breast implant placement are submuscular and subglandular. In a submuscular placement, the implants are inserted under the chest's pectoral muscles. In the case of a subglandular placement, the implants are inserted over the pectoral muscles and under the breast glands. Before the procedure, you and your plastic surgeon can discuss which method makes the most sense for you.
3. Do Consider a Breast Lift
Breast implants add fullness and improve the shape of your breasts. However, they cannot correct sagging breasts. If your aesthetic goals include having your breasts sit higher on your chest, discuss with your surgeon the possibility of combining your breast augmentation with a
breast lift
.
4. Do Get Breast Augmentation for Y-O-U
One surefire way to get regretful results is to go through with the procedure for the wrong reasons. An example is trying to please or impress someone else with new, fuller breasts. Breast enhancement surgery is a personal choice that you should only make if you genuinely want implants.
Read Should You Go Under the Knife? (Know Your Reasons)
to learn why women get plastic surgery.
5. Don't Use Tobacco Products
This "don't" is one that you should practice before and after your surgery. There are countless reasons to stop smoking. For one, tobacco products and surgery is a recipe for disaster, increasing the risk of complications and abnormal healing. Likewise,
smoking causes premature aging
, which encourages skin sagging to occur sooner rather than later.
6. Don't Hide Relevant Information from Your Plastic Surgeon
You need to be 100% honest with your plastic surgeon about your
candidacy for breast augmentation
. This is to protect your health and safety, as well as for the sake of getting your desired results. Speak with your physician about any health problems you have, including any medications, recreational drugs, and dietary supplements you are taking.
7. Do Contact Your Plastic Surgeon to Clarify Concerns
Last, this "do" is applicable before and after your surgery. If any new questions arise while awaiting your surgery date, do not hesitate to get in touch with your plastic surgeon. It is best to address your concerns as soon as possible. That way, if the practice needs to make special accommodations, it can be done ahead of time. Moreover, if you have any questions while
recovering from breast augmentation
in Phoenix and Scottsdale, AZ, reach out to your physician right away to alleviate your worries.
Breast enhancement is the most popular procedure at Guerra Plastic Surgery Center — the leading breast augmentation surgery center in Arizona. Call 480-970-2580 now or
fill out our form
to schedule a consultation with Dr. Aldo Guerra.