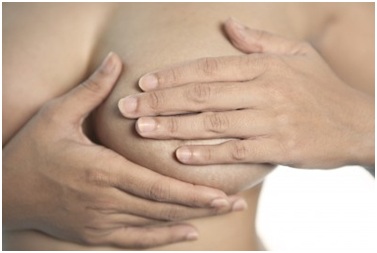 Capsular contracture is a response of the immune system to foreign materials in the body. In breast augmentation, capsular contracture is a complication that causes excessive scar tissue to develop around breast implants. This comprehensive guide can give you more information on this pressing concern, as well as prevention tips.
Breast augmentation, either with
saline implants or silicone implants
, continues to be one of the most popular plastic surgery procedures in the world. It's helpful to have basic knowledge about capsular contracture, especially among women who already have implants or are considering breast augmentation in Scottsdale, Arizona. Anyone with breast implants can experience this complication. Fortunately, medications, physical therapy, and/or surgery can reverse capsular contracture.
Here's a closer look at the condition, how to prevent capsular contracture, and how you can preserve both your health and beauty.
What Is Capsular Contracture?
Capsular contracture is the hardening of scar tissue surrounding a breast implant. During the
breast augmentation recovery process
, a capsule of scar tissue will develop around each implant. The scar tissue helps preserve the implant and secure it in place. In the vast majority of patients, the collagen rich capsule stays soft and pliable, allowing the breasts to feel soft and bouncy. In some cases, collagen fibers in the scar tissue tighten too much, causing the capsule to contract. In severe instances, this complication can disfigure the shape of the breast and cause symptoms such as soreness and pain. Most patients are able to avoid capsular contracture, with most plastic surgeons quoting a 95:5 ratio, meaning, up to 5% of patients can develop scar tissue contracture over the first 10 years after breast augmentation. The reasons some individuals develop capsular contracture and others do not, are not fully understood. Some risk factors can increase the risks of capsule contracture, and include very large breast implants, developing microbial biofilm (when the breast implant comes into contact with the patient's skin upon insertion), a build-up of blood around your breast implant, and a genetic predisposition.
Who Is Prone to Capsular Contracture?
Anyone who has breast implants may experience capsular contracture, including women who have had breast augmentation and those who have had implant-based breast reconstruction surgery. The complication may arise as early as three months after getting breast implants, or as late as 25 years after the procedure.
How to Reduce Your Risk of Capsular Contracture
These factors can minimize your chances of developing capsular contracture.
1. Choose implants that are proportionate to your body
The saying "go big or go home" does not apply to all breast augmentation patients. Overly large implants can stretch and thin your breast tissue, which can increase your risk of experiencing capsular contracture. In fact, the overly large breast implants, which seem almost too common in Scottsdale and Phoenix, are the most common cause of capsule contracture we have noted locally. Furthermore, too-large breast implants have a higher risk of displacement.
Choosing the best breast implant size
for your body can help you achieve both desirable and safer results.
2. Inframammary incision
The most common incision placements for breast augmentation patients are: in the natural crease or fold under each breast (inframammary), around the areola (periareolar), and through the armpit (transaxillary). A study shows that surgeries performed using the inframammary incision result in
lower incidences of capsular contracture
.
Learn more about breast augmentation incisions.
3. Submuscular placement
Allowing your plastic surgeon to place the breast implant below your pectoral muscle, known as submuscular placement, significantly minimizes exposure to bacteria that may contaminate the breast implant when positioned above the muscle, referred to as subglandular placement.
Deciding which breast implant placement is best for you means evaluating several factors, most notably, your anatomy. Women who have their implants placed under the pectoral muscles (if the plastic surgeon deems it appropriate, of course) may enjoy a reduced chance of developing capsular contracture.
Learn more about breast implant placements.
4. The Keller Funnel®
The
Keller Funnel®
is a medical device used to carefully insert an implant into the breast pocket through a "no-touch" approach. Its main purpose, alongside easier insertion, is to prevent direct or hands-on contact between your skin and the breast implant. As mentioned earlier, implants may develop a microbial biofilm when they come into contact with the patient's skin during insertion, so using the Keller Funnel® helps maintain a safe and sterile environment during your procedure by not allowing the breast implant to touch the patient's skin upon insertion. In fact, the Keller Funnel®
reduces the incidence of capsular contracture by over 50 percent
.
5. Choose one of the best cosmetic surgeons in Scottsdale-Phoenix, AZ
Entrusting yourself to the best plastic surgeon near you is one of the most important processes that can make or break the outcome of your procedure. An experienced surgeon knowledgeable in the latest advancements in breast augmentation has a deeper understanding of how to create beautiful and longer-lasting results.
If you are looking for a plastic surgeon who can help you fulfill your body enhancement goals in the safest and most effective ways possible, consider
Dr. Aldo Guerra
. As a board-certified and award-winning surgeon specializing in breast augmentation, his combination of scientific and technical mastery with artistic perspective allows him to materialize the most stunning, natural, and proportional results.
Meet him through a consultation.
Additional Tips for Capsular Contracture Prevention
Plastic surgeons and medical professionals recommend the following additional techniques for reducing the risk of capsular contracture.


Avoid vigorous and physically demanding activities for the first several weeks during the recovery period. Strenuous exercise can elevate your blood pressure, increase your heart rate, and cause bleeding around new implants. Read our guide to exercising 1-12 Weeks after breast augmentation for more details.


Use of vitamin E 800-1200 mg orally each day is believed to interfere with the formation of collagen and may soften scar tissue formation and prevent or reduce the symptoms of capsular contracture.


Though the benefits of massaging the breasts after surgery require more research, many cosmetic surgeons and medical professionals believe that breast massage techniques may prevent capsular contracture.


Keep a good relationship with your plastic surgeon. Don't hesitate to reach out or check in with your surgeon every once in a while, perhaps every year or so, after getting breast implants. Both saline and silicone breast implants are resilient and long-lasting, but they are not lifetime devices. Therefore, keeping an eye on how your breast augmentation evolves through the years is an effective way to manage any complication.


Your Confidential Consultation at Guerra Plastic Surgery Center
As one of the most experienced and passionate plastic surgeons in Arizona, Dr. Guerra makes it his mission and professional goal to exceed the expectations of each patient when it comes to breast augmentation. He performs all surgeries in
accredited surgical facilities
, which guarantee the safety and well-being of every patient.
Consider a confidential consultation with Dr. Guerra and begin your breast augmentation journey at one of the finest plastic surgery practices in the state.
Write to Guerra Plastic Surgery Center
or call the office at 480-970-2580 to get the conversation started. Your search for a talented and reputable doctor to help you look your best ends today.