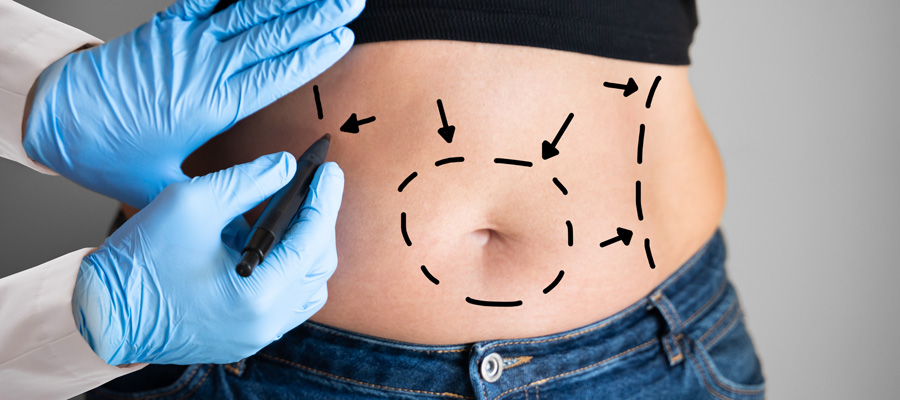 Have you spent months trying to tone your midsection, only to notice barely-there results? If your commitment to a healthy lifestyle fails to reduce the excess skin and fat in your stomach, a surgical procedure called a tummy tuck may help.
More than
242,000 patients had a tummy tuck in 2021
, which is a sizable increase of 49 percent compared to the previous year. However, not all tummy tucks address the same concerns. To determine which procedure is right for you, here is everything you need to know about the four types of tummy tuck in Scottsdale, also called an abdominoplasty.
1. Full or Standard Tummy Tuck
A standard or full tummy tuck is the most common of the four types. The procedure focuses on the entire abdomen from the sternum down to the pubis.
Standard tummy tucks typically begin with a horizontal incision below the belly button from hip to hip, followed by the tightening of separated abdominal muscles referred to as
diastasis recti
. A plastic surgeon will pull the skin down and over the abdomen, removing any excess skin in the process. In many cases, repositioning the navel is a routine part of a standard tummy tuck.
An ideal candidate for a full tummy tuck is anyone who leads a healthy lifestyle and has minimal to moderate lax skin or excess weight in the midsection. Women with excess loose skin in the abdomen as a result of pregnancy are also good candidates for this procedure. The recovery time takes a minimum of two to three weeks.
2. Extended Tummy Tuck
An extended tummy tuck is, as the name implies, a more extensive version of a standard or full tummy tuck. The procedure involves the belly, hips, and sides of the lower back. A surgeon will create a horizontal incision across the lower abdomen and continue around the hips. Another incision, this time a vertical one, may also be necessary depending on the treatment area's size.
During surgery, a plastic surgeon will tighten the weakened abdominal muscles and remove any excess skin. Similar to a full tummy tuck, the belly button or navel may require repositioning to achieve harmonious results.
A good candidate for an extended tummy tuck is anyone who had significant weight loss, which often leaves a "flabby" abdomen with excess skin. Men and women struggling to get rid of love handles or back fat will also benefit from this procedure. Recovery takes longer than a full tummy tuck because of the longer incisions and more extensive tucking. Patients may return to desk-based jobs after two to three weeks of downtime. However, avoid strenuous activities for five to six weeks.
3. Reverse Tummy Tuck
A reverse tummy tuck reduces excess skin on the upper abdomen instead of the mid or lower abdominal regions. A horizontal incision would essentially be where the bra line is: beginning on one side of the lower breast fold, extending across the lower sternum and to the remaining breast fold. After which, a surgeon will tighten the upper abdominal muscles (upper rectus) and remove any excess connective tissue and skin.
Men and women with excess skin in the upper abdominal area and minimal separated muscles (if any) are ideal candidates for a reverse tummy tuck. Recovery can take approximately one to two weeks.
4. Mini Tummy Tuck
A mini tummy tuck redefines and contours the lower midsection by removing age-related excess skin and connective tissue, also called a "pooch."
The incision in a mini tummy tuck is typically shorter and made just above the pubic area. This procedure is similar to a standard tummy tuck, wherein a plastic surgeon will tighten separated muscles, pull the skin over, and remove any excesses. Navel repositioning is unnecessary since the treatment area is distant from the belly button.
A mini tummy tuck is best for men and women with loose skin and/or minor excess fat below the navel area. Expect one week of downtime at a minimum.
What to Expect Before Tummy Tuck Surgery
Before undergoing tummy tuck surgery, you will have at least one consultation with your plastic surgeon in Scottsdale. During your appointment, ensure to detail your goals, medical history, and general health. Your surgeon will recommend which of the tummy tuck types is appropriate for your unique situation and discuss the procedure, costs, risks, and recovery.
In addition, your surgeon may ask you to stop smoking several weeks before the procedure, as smoking can lead to decreased blood flow,
anesthesia complications
, tissue damage, and poor wound healing.
What to Expect on the Day of Surgery
Regardless of which tummy tuck procedure you choose, it will involve intravenous sedation or general anesthesia. General anesthesia is the more common choice of plastic surgeons, which necessitates performing the surgery in an outpatient healthcare facility (
always make sure it's accredited!
) with a licensed anesthesiologist present.
Surgery can take as fast as one hour to as long as five hours, depending on the complexities of your procedure.
What to Expect After Tummy Tuck Surgery
Immediately following surgery, you may experience some pain, swelling, bruising, numbness, and general fatigue. These side effects are temporary and will subside in time. Your surgeon will prescribe pain medication and provide instructions on how to care for your incisions, dressings, and drains (where applicable). In the coming weeks, expect a follow-up appointment with your surgeon to check your progress.
All abdominoplasty procedures leave scars. However, what sets an experienced plastic surgeon apart from other practitioners is that they can minimize and hide surgical scars effectively.
Choose the Right Tummy Tuck Surgeon in Scottsdale, AZ
Entrusting your care to the right plastic surgeon is pivotal to the success of your tummy tuck. As such, ensure the professional you choose is a top plastic surgeon and has extensive experience in your desired surgical procedure–like Dr. Aldo Guerra or Dr. Scott Ogley. As Scottsdale plastic surgeons with over 26 years of experience in performing tummy tucks, rest assured they can help you achieve the beautiful contours you've always wanted.
Contact us
to meet Dr. Guerra or Dr. Ogley and discuss your tummy tuck options.