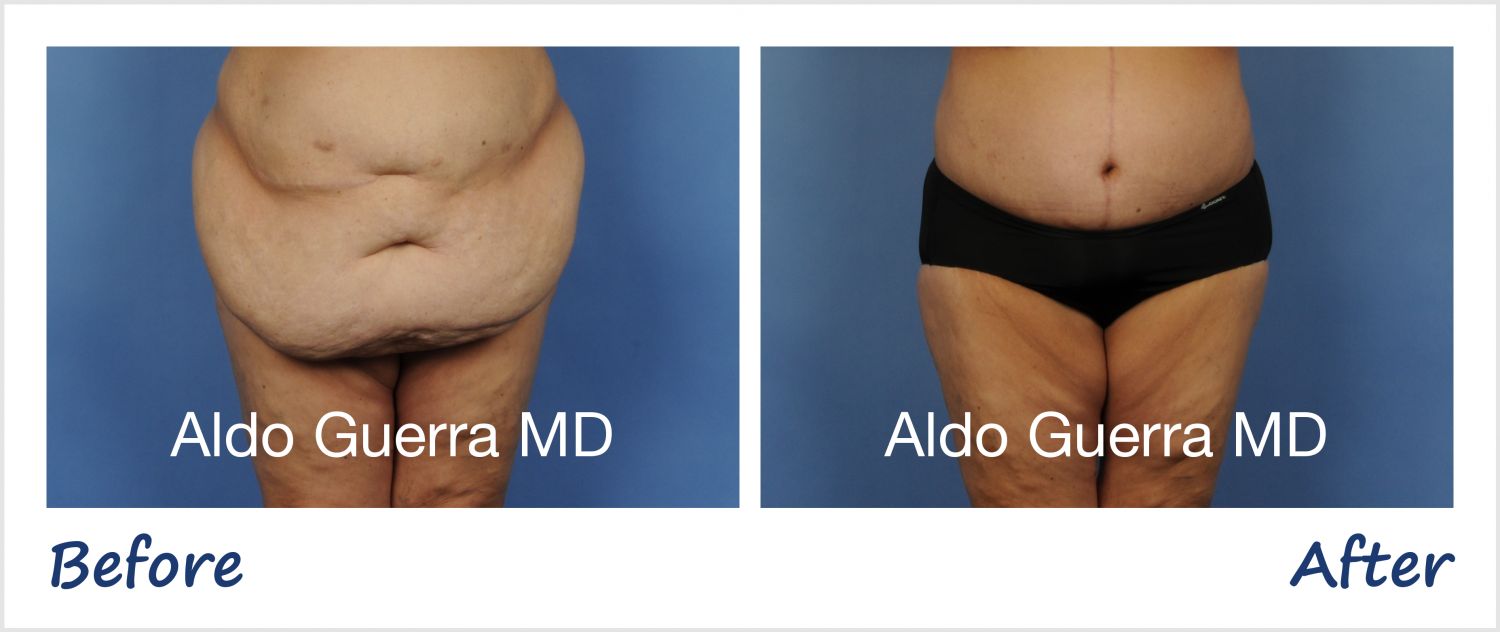 People want to lose weight for many good reasons, including to improve their quality of life and regain a sense of control. After such a dramatic change, most weight watchers feel proud and accomplished. Whether they achieved it through diet and exercise or bariatric surgery, weight loss can bring an instant boost of confidence. Unfortunately, skin excess is another issue to address. Inches of sagging skin may remain after dropping a large number of pounds. Unlike calories, no amount of exercise can burn stretched tissue.
This residue of major weight loss almost never snaps back and may cause your self-esteem to plummet. While popular procedures like liposuction can eliminate fat around the waist, it cannot remedy loose skin or weak muscles that allow your stomach to bulge. The solution? An
abdominoplasty
.
Fleur-de-Lis vs. Tummy Tuck
An abdominoplasty or tummy tuck is a body-shaping procedure that removes the accumulation of excess skin and muscle from the stomach. A traditional tummy tuck involves an incision running across the abdomen, from one hip to the other, just above the pubic bone. A Fleur-de-Lis abdominoplasty requires an additional incision, running vertically down the midsection to better address the lax abdominal tissue.
For most patients, a simple tummy tuck can help rejuvenate the figure. Though very effective, this technique is often inadequate at remedying large quantities of excess skin.
When to Consider Fleur-de-Lis
Your skin is a versatile and flexible layer of tissue. It can accommodate almost all changes your body might experience, starting from the day you were born until you reach your elderly years. In most cases, your skin manages to keep up with your body. However, there are circumstances when your skin may grow faster than usual. Once this layer of tissue becomes lax and "stretched out," even removing the fat behind it will not fix the situation.
If this issue frustrates you, our Fleur-de-Lis abdominoplasty is available to create beautiful contours that will accentuate your figure. The result is a post-pregnancy or weight loss body that anyone would be proud to show off.
Specifically, a Fleur-de-Lis abdominoplasty might be appropriate for you if:
1. The skin around your stomach refuses to "snap back"
When you gain a significant amount of weight, the skin tissue stretches itself to accommodate extra fat cells. Though this can occur anywhere in the body, most of the stretching happens around the abdomen and hip area. For some people, the skin tissue can relax and go back to how it was before the weight gain. For many others, however, the skin has been stretched so far that it cannot bounce back after weight loss. Once your skin loses its elasticity, you may need a
tummy tuck
to enhance its appearance.
2. You suffer from weak abdominal muscles
If your muscles seem unresponsive to exercise and are no longer providing the support your upper body needs, a tummy tuck surgery can correct this problem. At our medical facility, Dr. Aldo Guerra can address the problem by eliminating unnecessary layers of skin and fat. Then, he can pull the muscles together to create tighter, firmer muscles and an overall flatter midsection.
3. You can't get rid of post-pregnancy weight gain and stretch marks
Pregnancy is a beautiful, natural circumstance that would require the skin to stretch in excess. When a woman is with child, the skin around her tummy will expand to support and contain the growing fetus. Pregnancy can also result in stretch marks appearing around the hips and thighs.
While abdominoplasty can address sagging skin, there is no perfect solution for stubborn stretch marks. It is possible to fade and improve the texture of streaks on the skin, but a treatment that can permanently erase them is not yet available. In hindsight, if you have excess skin discarded during an abdominoplasty, most stretch marks will be removed as well. If any stretch marks remain, they will be much lower on your abdomen where they are far less visible.
It is also important to consider that tummy tucks are not just for moms, but for anyone who has excess skin and fat — which include men.
4. You can't leave the house without wearing Spanx
If you continue to hide your body under spandex and have yet to see an improvement after years of strict dieting and exercise, you might want to discuss a tummy tuck with a plastic surgeon. Additionally, if you have lost a considerable amount of weight after dieting or bypass surgery, you may be frustrated about your persistently limited clothing options. A Fleur-de-Lis abdominoplasty can make a huge difference in how you look in your clothes, as well as out of them.
5. You have decreased body confidence
Some men and women who consider Fleur-de-Lis suffer from a lack of confidence in their own skin. Decreased self-esteem can impact your personal life and how you interact with others. It is always important to look and feel your best, and it may be challenging to do that if you are feeling self-conscious about your appearance.
The Fleur-De-Lis Abdominoplasty at Guerra Plastic Surgery Center
No other area of the body is more
frustrating to tone
than the stomach. As we go through normal physical changes, such as weight fluctuations, childbirth, and the aging process, excess skin and fat find a way to accumulate around the midsection. Luckily, abdominoplasty is an effective way to solve this problem for good.
Whether you are thinking about a complete abdominoplasty or a mini-tummy tuck, remember to take your time and only trust a board-certified plastic surgeon. Dr. Aldo Guerra is an award-winning
cosmetic doctor
with over 15 years of experience in helping women achieve their beauty goals. During your consultation with him, he can provide informative videos and before and after photographs to help with your decision making.
If you are ready for a much-deserved positive change, dial
480-970-2580
or
complete our form
to book your appointment. Guerra Plastic Surgery Center is one of the leading providers of advanced cosmetic surgical procedures in the Phoenix, AZ area.