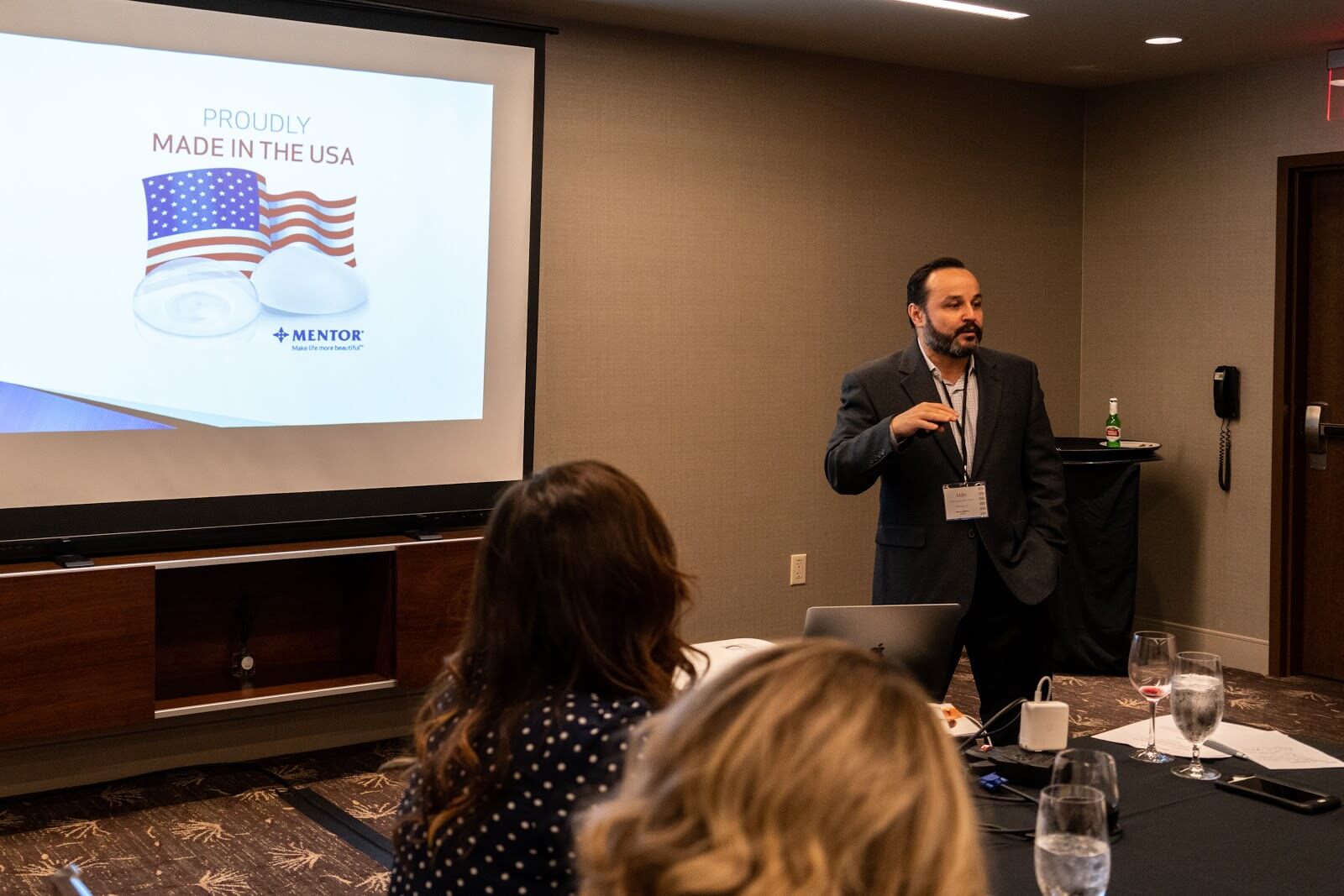 Dr. Aldo Guerra taught an advanced Mentor MemoryGel Xtra course in Arizona on August 19-20, 2018.


Six surgeons and four office administrators from across the country came to learn and experience the Guerra Plastic Surgery Center advanced techniques.


Breast augmentation patients that choose Dr. Aldo Guerra to perform their surgery have peace of mind since he's a world class breast surgeon teaching other surgeons.


Scottsdale, AZ - Congratulations again to Dr. Aldo Guerra, one of the
top plastic surgeons in AZ
, for completing another two day advanced training course on the new
Mentor MemoryGel Xtra breast implants
. He has taught many courses over the year but since this is a relatively new breast implant option, other surgeons from across the country appreciated the opportunity to acquire advice and advanced surgical techniques.
Day 1: Education Dinner Presentation on Mentor Breast Implants
The first part of the training happened on Sunday, August 19, 2018, when the six plastic surgeons and four office administrators arrived in Phoenix. There is an evening education dinner presentation by Dr. Aldo where he goes over clinical data and he shares his advanced techniques and experience handling Mentor
Breast Implants
. Seeing is believing so attendees get a close up look at before and after photos from the different breast implant types and sizes. Throughout the presentation Dr. Aldo enjoys fielding questions and taking the time to make sure he can adequately address them. Participation is vital so it's great to see the plastic surgeons share their individual experiences and techniques as well.
Day 2: Live Surgery, Consultation and Post-Op Recovery
In the morning on the second day Monday, August 20, 2018, the surgeons attend the
breast augmentation Phoenix
area live surgery. One of the nice things about the live surgery is that we bring in big video monitors and camera equipment so the surgeons that are learning these advanced techniques are able to view everything in full, up-close detail. During the live surgery he makes sure to explain each step and go through the surgery highlighting tips and advanced surgical techniques. Previous plastic surgeons have expressed gratitude picking up tips and other surgery related enhancements that they can take back to their respected plastic surgery practices.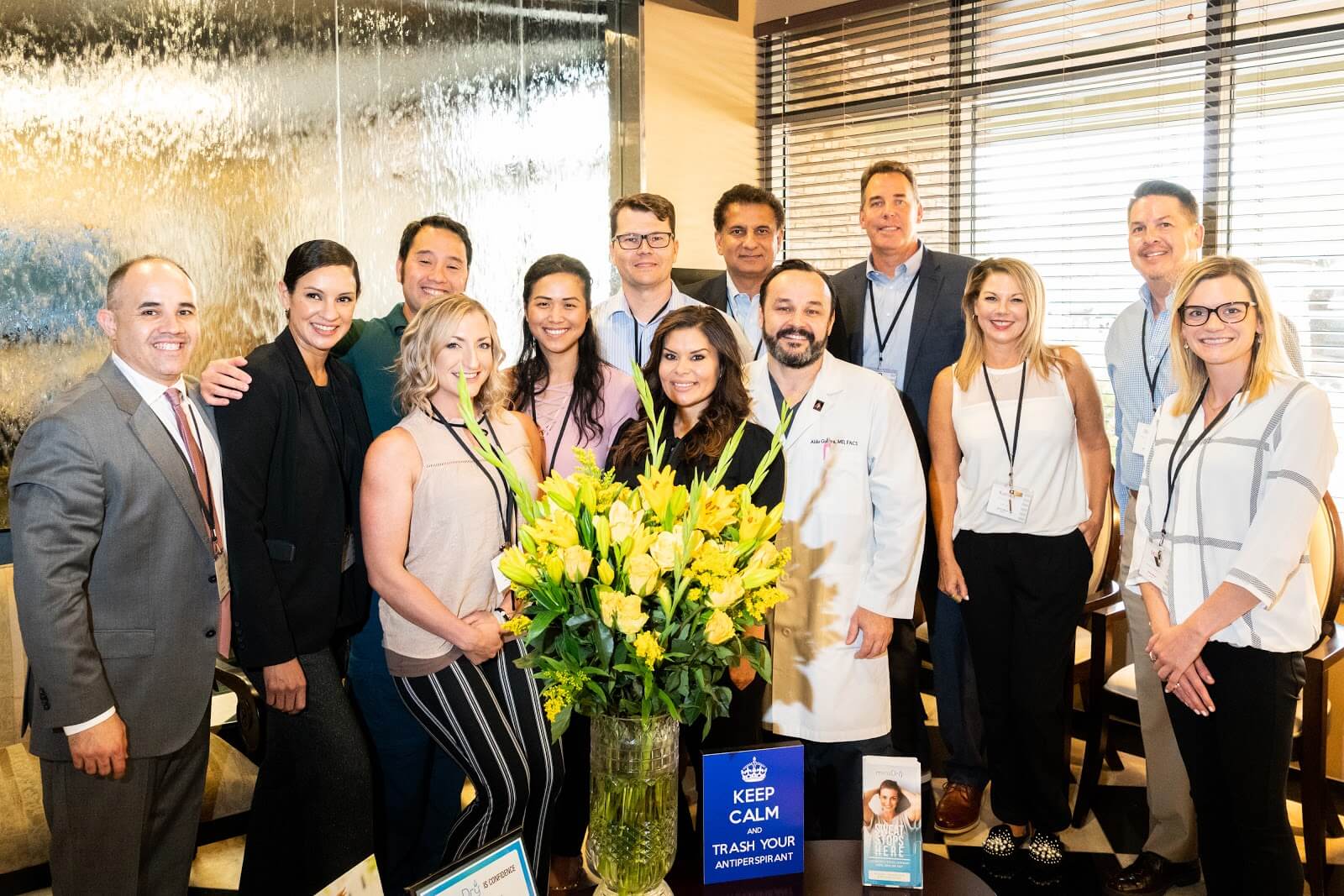 Attendees of the August 19-20, 2018 Advanced MemoryGel Xtra Course taught by Dr. Aldo Guerra and Genaro Guerra.
Day 2: Add On Bonus - Best Practices Training
As a bonus over the years, we have added an advanced business portion to the training utilizing Genaro Guerra, Business Manager to Guerra Plastic Surgery Center. The four office administrators that came with their surgeons spent the day with him learning best practices techniques for a successful breast augmentation office. No time is wasted so while the plastic surgeons are training at the live surgery the administrators are training in the office. Highlights include getting the surgeon on board, getting the team on board, utilizing the support from Mentor and the most important part best practices techniques. Being onsite at Guerra Plastic Surgery Center is the best since each and every example can be seen by just walking through our beautiful office!
Breast augmentation AZ surgery in your future?
If you have been researching top
breast augmentation surgeon in AZ
then consider making a personal consultation with Dr. Aldo Guerra. He has been helping patients achieve beautiful breast augmentation results for over 15 years. If you decide to choose him for your breast enhancement then have confidence that he is the surgeon that teaches other surgeons from all over the country. Please call
480-970-2580 today to schedule your consultation or schedule online.