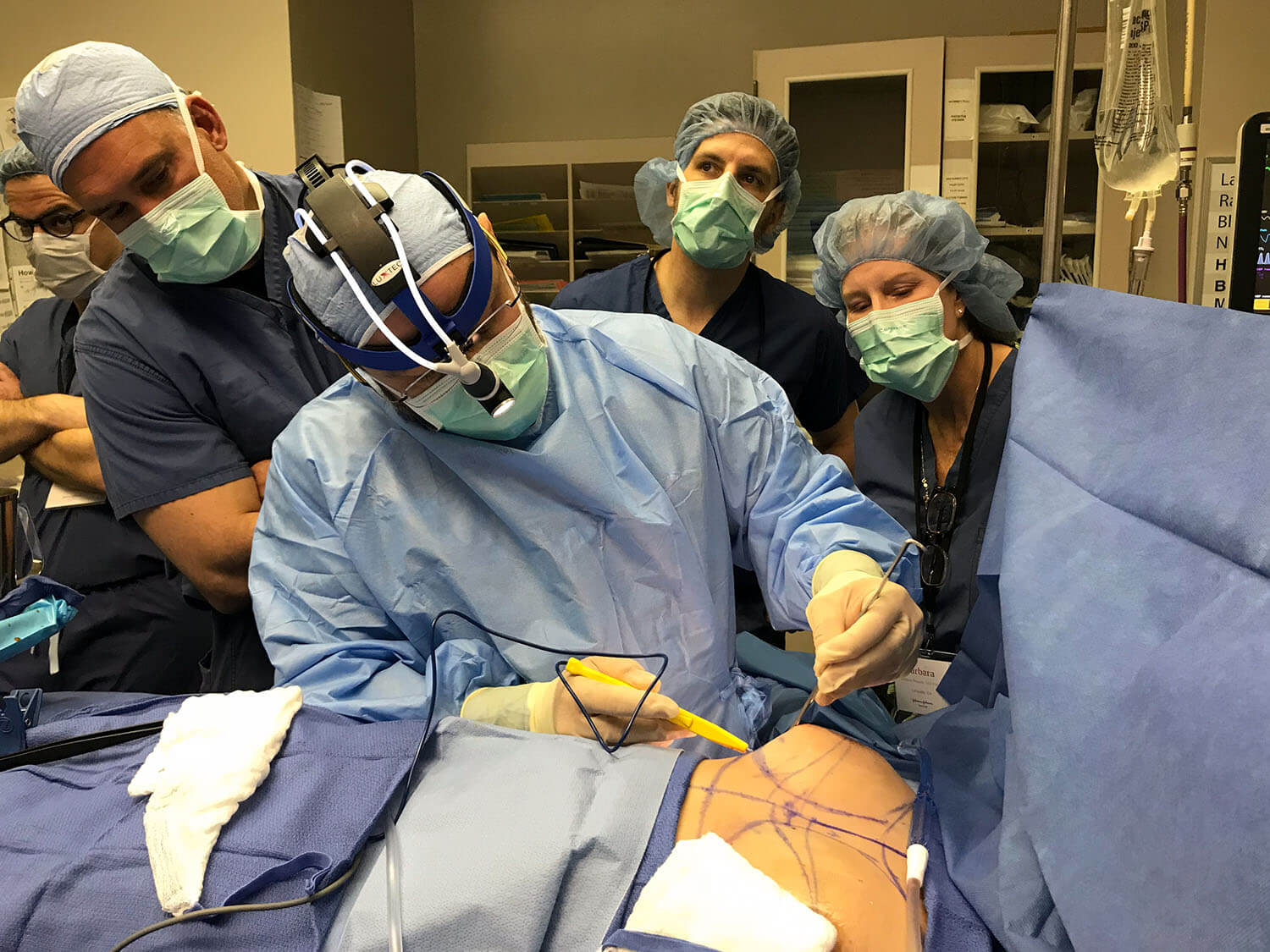 Dr. Aldo Guerra is helping to train board certified plastic surgeons from across the country on his techniques on the latest breast implants.


Innovative surgery, clinical and business professional educational course.


Phoenix, AZ - Board Certified Plastic Surgeon Dr. Aldo Guerra teaches surgeons from across the country on his latest surgical techniques for advanced breast surgery. The advanced professional education course was held in Phoenix and Scottsdale from April 15-16, 2018. Incorporating the newest
breast implants from Mentor
, surgeons got to observe live breast augmentation surgery with the new soft, natural feeling MemoryGel Xtra breast implants and the firmer, natural looking Teardrop MemoryShape breast implants. Not only is Dr. Aldo a great surgeon but he is also a great teacher.
Watch Dr. Dickerson who attended the event discuss the Mentor Breast Implants Preceptorship.
Surgeons flying in from all over the U.S. meet for dinner Sunday night and the event starts with a presentation by Dr. Aldo Guerra on Best Practices for Incorporating Mentor Breast Implants. The presentation highlights FDA Clinical Data as well as his advanced techniques and recommendations. Attendees get to see before and after photos of the different breast implant types, profiles and sizes. Throughout the presentation Dr. Aldo answers questions as they come up. Starting the training the night before surgery works well to give them an overview of what to expect when they observe the live surgeries the next day.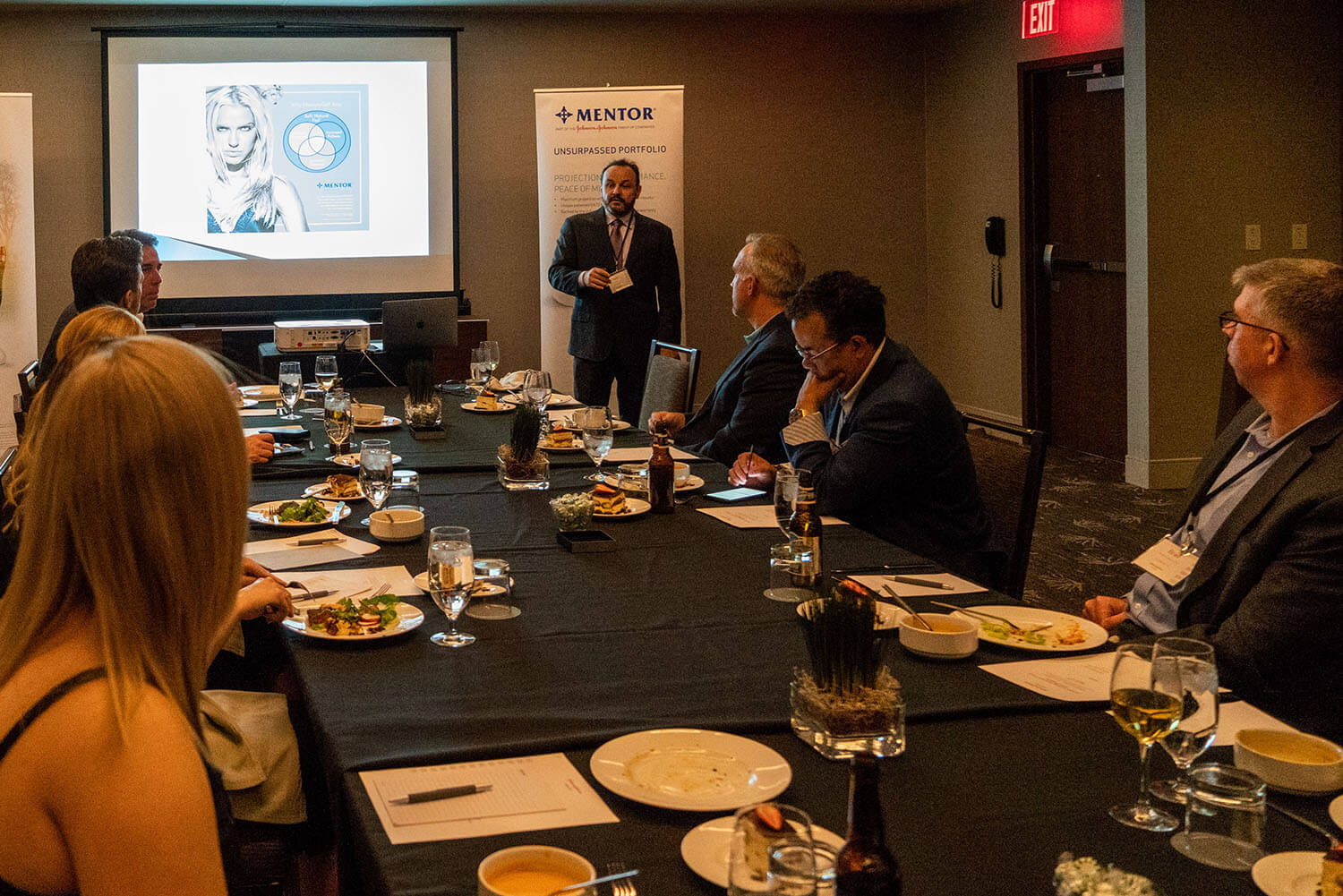 Dr. Aldo Guerra discussing the new MemoryGel Xtra breast implants.
Phoenix and Scottsdale Breast Surgeon.
Why was Dr. Aldo chosen to teach other surgeons? The short answer is that he specializes in breast augmentation in Arizona and over the past few years has been a leader in incorporating the newest breast implants and surgical techniques. He is well trained with world class training from Sweden and is regularly incorporating the latest best surgical practices into his plastic surgery center. If you were thinking about a breast augmentation then consider scheduling a personal consultation with Dr. Aldo!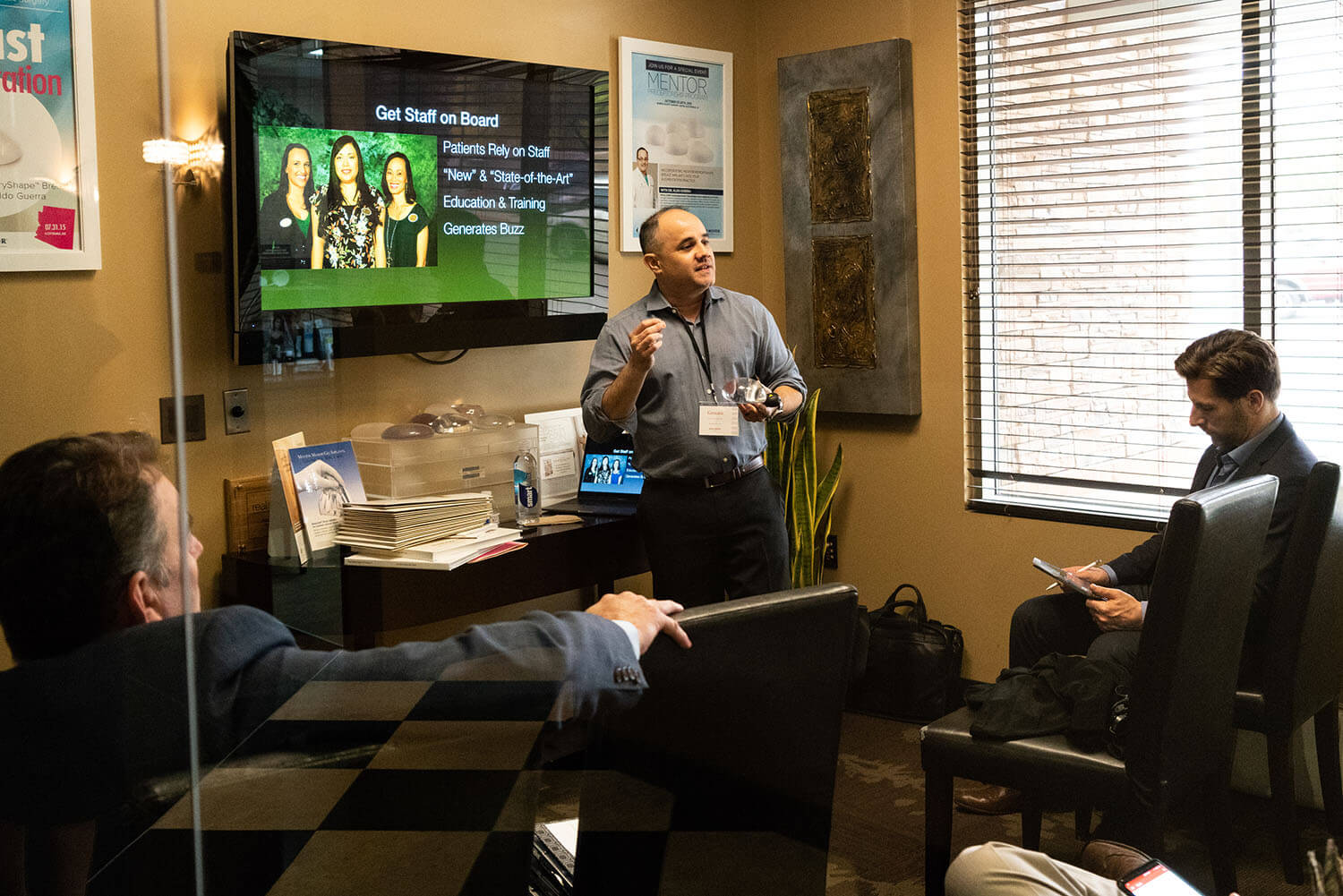 Genaro Guerra presenting "Pearls for Growing a Successful Breast Augmentation Practice"
Innovative Surgery, Clinical and Business Course
Guerra Plastic Surgery Center's business manager Genaro Guerra also contributes to the 2 day training course by working with the business managers, patient care coordinators and surgeons who want to learn best practices techniques for doing more breast 1111surgery. This refreshing take on training incorporates both the surgeons and office support team since they work hand in hand in their respected practices. The business portion of the course focuses on best practices to incorporate the new
MemoryGel Xtra breast implants
and MemoryShape breast implants. In addition, consultation techniques are discussed including pricing, best practices, support, advertising and photos.
How can I attend a future Mentor Breast Implants preceptorship w/ Dr. Aldo Guerra?
It was a pleasure to meet and help train the wonderful folks at the last Mentor Breast Implants Preceptorship in April. If you are a surgeon who is interested in attending a future course please contact your local Mentor representative.
About Dr. Aldo Guerra and Guerra Plastic Surgery Center
Dr. Aldo Guerra is one of the
top plastic surgeons in Arizona
. If you are interested in getting in touch with his office, please call
480-970-2580
.