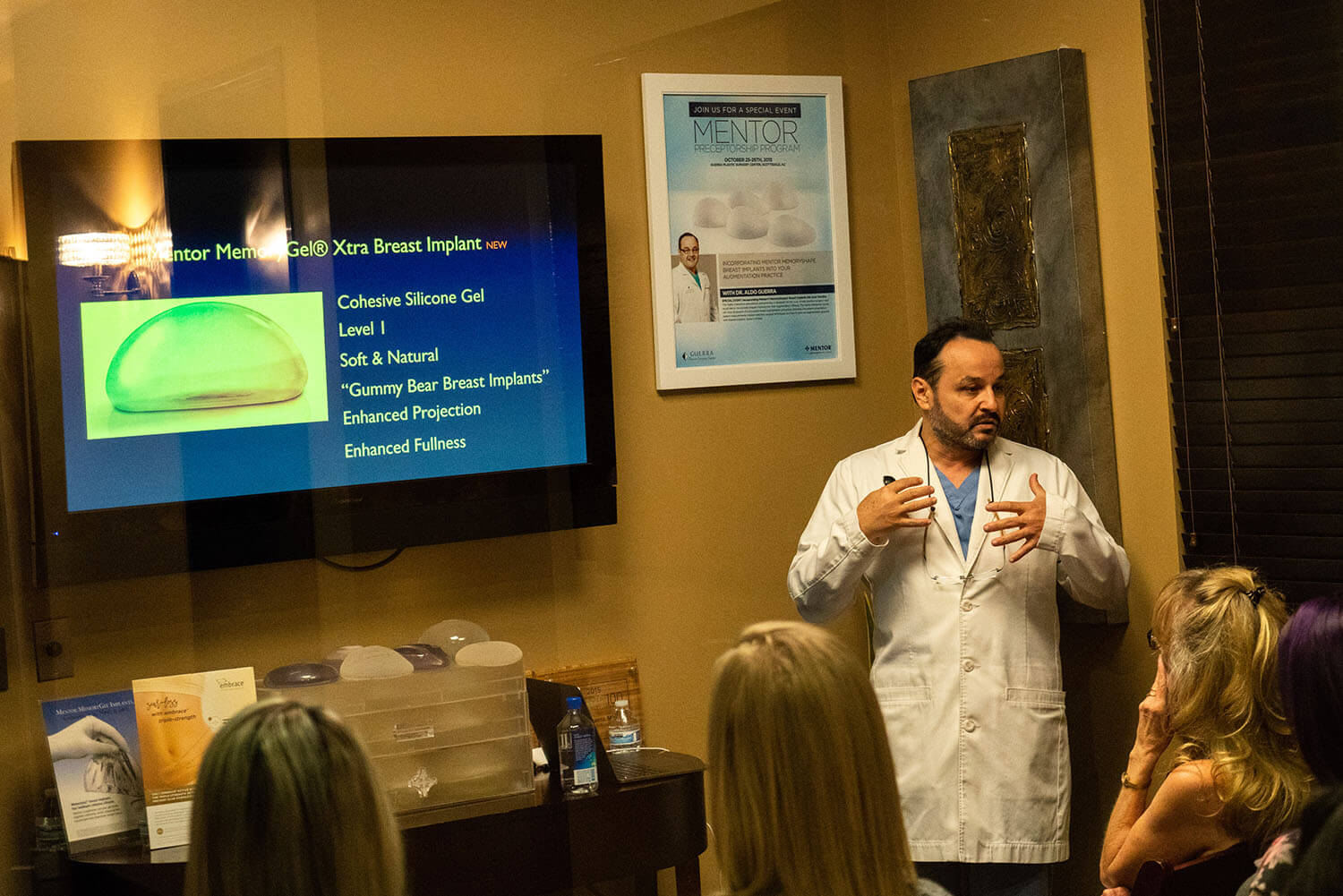 Guerra Plastic Surgery Center hosted the popular Scottsdale Breast Augmentation Seminar April 11, 2018.


World Class Breast Surgeon Dr. Aldo Guerra shared his experiences and recommendations on the latest breast implant options.


Contact us to attend a future breast augmentation seminar in Arizona.


Scottsdale, AZ - Board Certified Plastic Surgeon Dr. Aldo Guerra hosted the popular Scottsdale Breast Augmentation Seminar on April 11, 2018. Patients from all over AZ were able to meet at Guerra Plastic Surgery Center in North Scottsdale for an educational event focused on the breast augmentation procedure. Patients were treated to an overview of Dr. Aldo's breast augmentation philosophy and techniques. He discussed breast cup sizes,
breast augmentation incisions
, under the muscle implant placement, above the muscle implant placement, Exparel® 72 hours pain relief medication and much more. If you are considering getting a
breast augmentation in Arizona
then
schedule a consultation
online or call us at
480-970-2580
.
Finding the Right Breast Cup Size for You
One of the top questions we get is in helping to
find the right breast implant size
for each and every patient. Everyone is different but Dr. Aldo listens carefully to each patient to help them determine a range of possible sizes. At the seminar he is able to give patients a general guideline about volume and breast implant options. At our breast augmentation consultation with Dr. Aldo he gets to know the patient, discuss goals for the procedure and do a comprehensive breast exam. After analyzing the chest wall and breast anatomy he determines the best breast implant types, profiles and sizes to achieve the desired result. If you are considering a breast augmentation then call us today at
480-970-2580
so we can help you find the right size for you!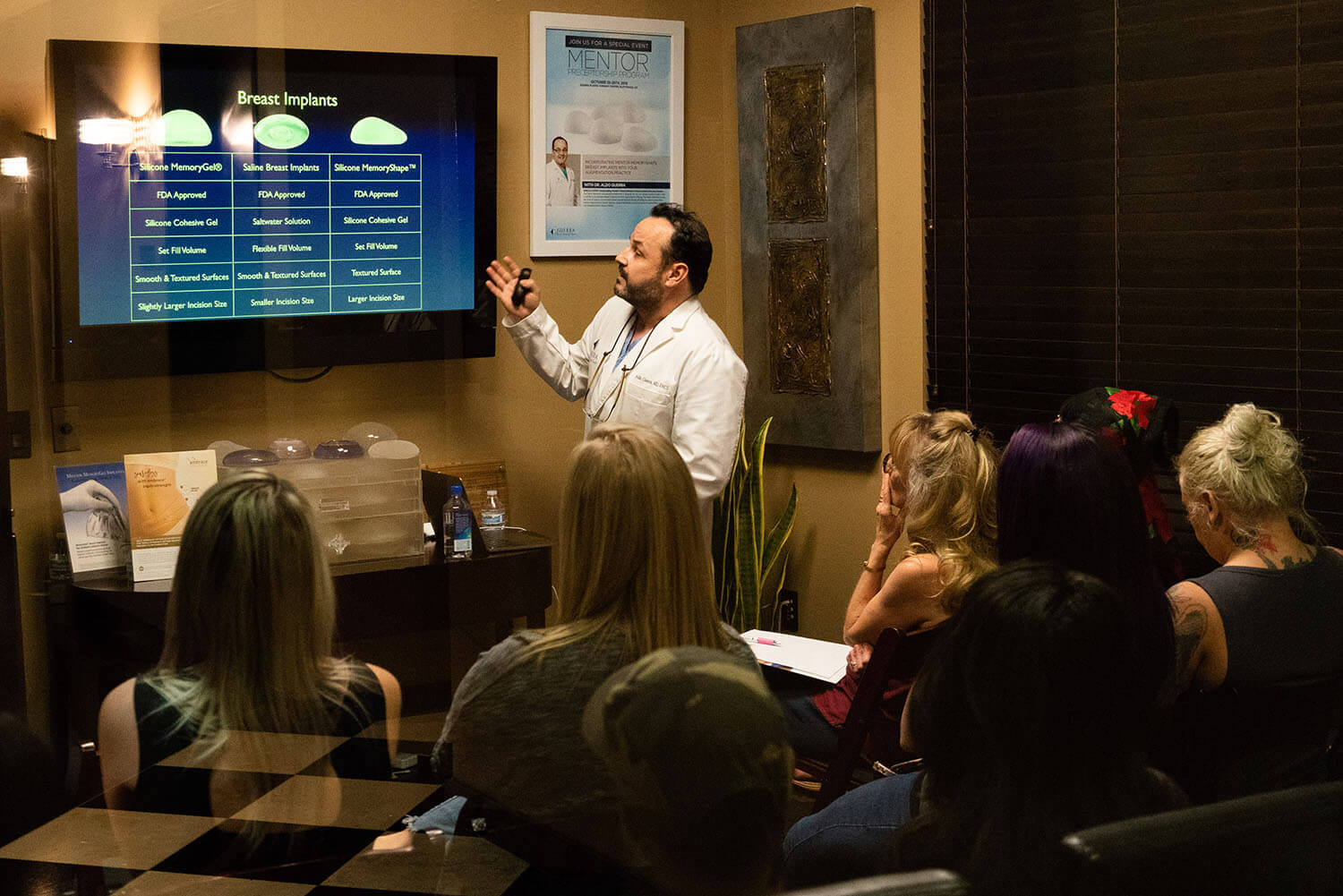 Breast Implant Options for 2018
It's a great time for patients that want breast implants because there are so many more options than ever. At the Scottsdale Breast Augmentation Seminar, Dr. Aldo went over the different
breast implants
we offer:


MemoryGel Xtra Breast Implants


MemoryGel Breast Implants


MemoryShape Breast Implants


Saline Breast Implants


About 80-85% of our patients choose the new Mentor MemoryGel Xtra or MemoryGel Breast Implants and about 10-12% choose the Mentor MemoryShape Breast Implants. Very few of our patients are choosing the saline breast implants but they're still available. As you can see patients love the soft, natural feeling, round silicone MemoryGel breast implants while others prefer the firmer, natural looking teardrop MemoryShape breast implants. And of course some patients want the much firmer, more fake looking saline breast implant. To learn more about the different breast implant options, please
schedule a consultation
or call
480-970-2580
today!
Xtra Xtra Read All ABout It!
New, Mentor® MemoryGel® Xtra breast implants are a hit. Patients love the soft, natural feeling implants that now offer more projection and fullness. Patients have more breast implant options than ever.
More Breast Augmentation AZ Seminars
If you could not attend the Breast Augmentation Seminar on April 11, 2018, do not worry. You can always attend a future event. Guerra Plastic Surgery Center has been known to host education seminars on a monthly basis. You can also get the same information at a personal consultation. Here are some options to find out more: