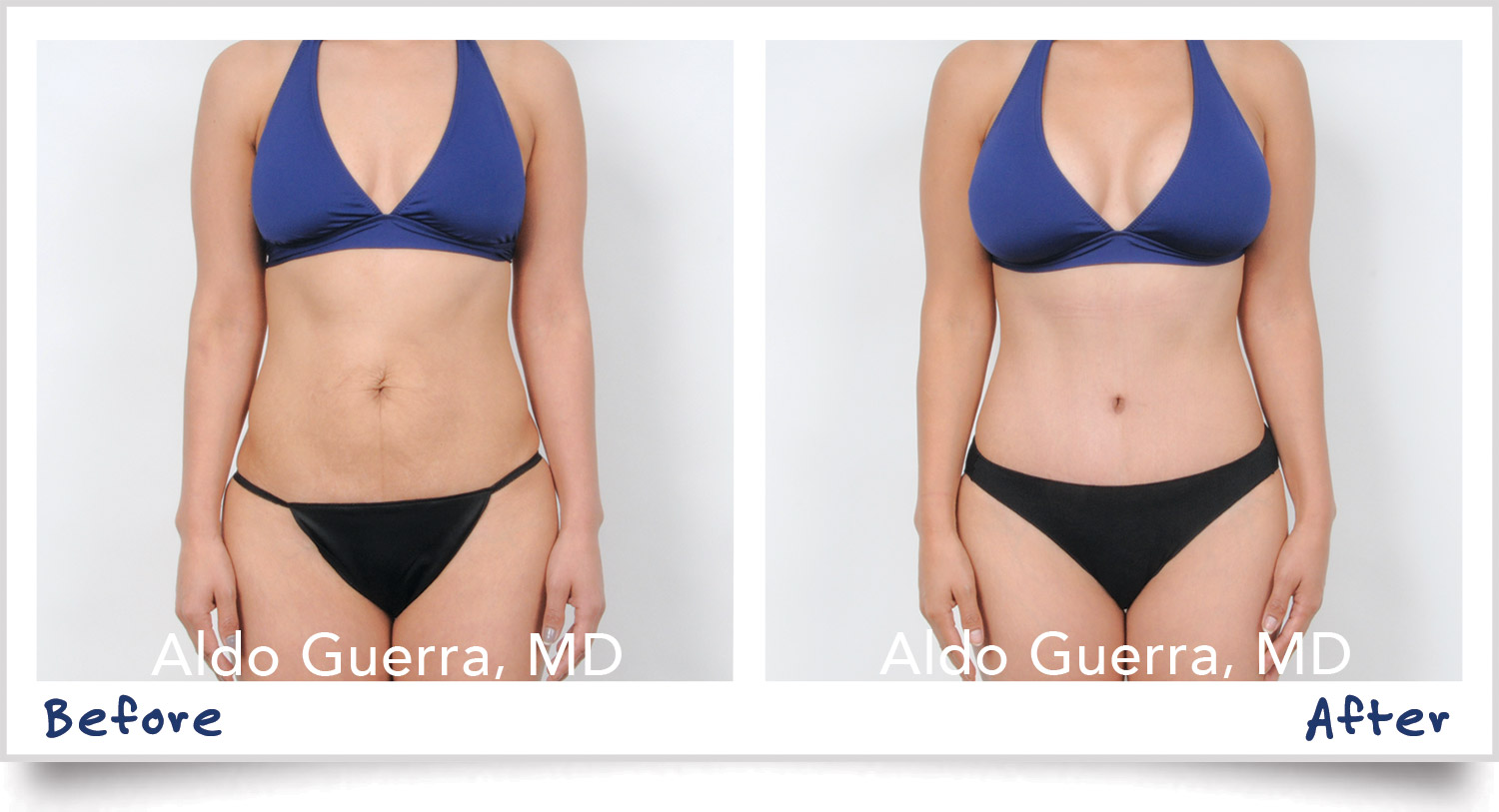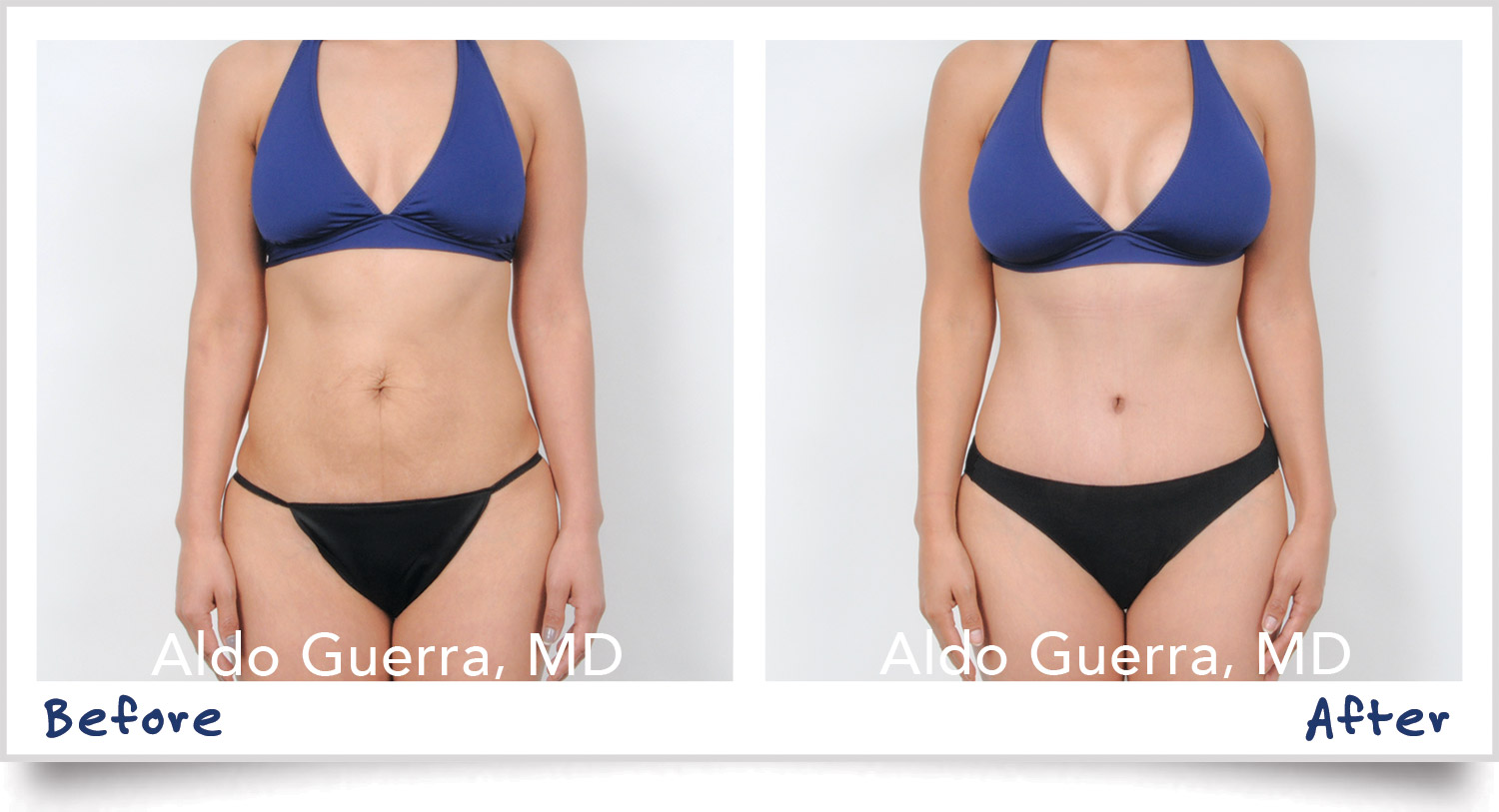 Before and after Scottsdale mommy makeover with Dr. Aldo Guerra, actual patient.
Pregnancy changes a woman in countless ways. It affects her physically, emotionally, and mentally, oftentimes in very draining terms. For instance, many women have to battle postpartum depression following the birth of their little bundle of joy. Meanwhile, the majority of new mothers have to contend with new bodies they can't whip into shape, no matter how hard they exercise or how healthy they eat.
The reality is that mothers do not have the luxury of time they used to have before they gave birth – or even before they were pregnant. The opportunity to go for morning runs or weekly workouts are oftentimes the first items crossed off their list of to-do things once the baby arrives. They have to take care of a newborn child, while at the same time balancing being a wife or taking care of their older children (if they have them). Just imagine the many responsibilities they have to juggle! Also, it is worth pointing out that most mothers would prefer to take what little time they have for themselves to relax.
Thankfully, mommy makeovers are here to help them regain their old bodies and confidence.
Defining "Mommy Makeovers"
"Mommy makeovers" is a term used to denote a series of cosmetic surgery procedures women undergo post-pregnancy. It can be a combination of surgeries that targets several areas or just a series of surgeries targeting one area. The end result is that mothers may achieve more "ideal" bodies, oftentimes having bodies that are even better than what they had before they got pregnant.
While there are people who scorn women who want to look their best, the truth of the matter is that a happier and more content mother would be able to take care of her children and family better. After all, if moms are suffering from low self-esteem, they are likely to set this behavior for their children. And what can boost a woman's self-esteem more than looking like the best version of herself?
Preparing for Your Mommy Makeover
There are a host of procedures that are available to moms who are looking for mommy makeovers. If you are looking for one, here are a number of things that you should consider:
Eligibility – Are you eligible for a mommy makeover? Good candidates of mommy makeovers are those whose bodies display irreversible effects of pregnancy, such as:

No matter how hard you exercise, you cannot lose the last few inches off your tummy. Your waistline is undefined and covered in loose skin and stretch marks.
Your breast have grown in size to the point that they are causing you pain and discomfort. Or it could be that your breasts have significantly decreased in size, are uneven, or have sagged over your chest.
You have pockets of fat hanging over your C-section scar and you are unconfident about your "flab."
There are other reasons for women to go through a mommy makeover. In case you are interested to get one, talk to your doctor to determine your eligibility.
Determining targets – What do you want to improve the most? Answering this question would help you narrow down your options to the procedures that specifically targets your problem area. You would also be able to do your research and prepare ahead of time for the procedures you wanted – such as how long the recovery period may be and what procedures you can consider. What's more, you should always have realistic expectations about the results of the surgery.
Choose your Board Certified Plastic Surgeon – There are many licensed plastic surgeons all over the country, but the price ranges differ depending on the surgeon's expertise. Our advice is not to look at the price tag, but to choose your surgeon based on his or her experience. Ask for before and after photos of previous patients, and be very open about your expectations. You would be working with your surgeon for a long time, so you have to ensure that you are choosing someone you can respect and trust. Most importantly, be sure your surgeon is certified by the American Board of Plastic Surgery.
Your treatment plan – Talk to your doctor about how you would want to go about the procedure. You have to talk about which procedures to choose to reach your goals, the associated risks and complications with each procedure, and whether you would get local or general anesthesia. You also need to discuss with your doctor what you are likely to experience post-op, the recovery period, and the outcome that you want to see. Finally, going under the knife can be a costly endeavor which means you have to be financially prepared. Talk to your surgeon about mommy makeover financing plans.
Be physically prepared – Once you have made the commitment to have a mommy makeover and to increase your self-confidence, you have to prepare yourself physically for the procedures as well. You can do this by the following:

Be as close to your target weight before you have a surgery – at least get to this weight a few months before your procedures.

Be physically fit – eat a healthy diet that is rich in antioxidants, vitamins, and minerals. Keep alcohol consumption to a minimum and stop smoking. You should also stop taking medicines that can increase bleeding. If you're unsure if anything you're taking puts you at risk of this surgery, then talk to your surgeon about the medications you're currently taking. You have to disclose even herbal medication – the more honest you are with the information, the more your doctor would be able to give you the support you need.

Have a support system – You should have a failsafe support system in place to ensure that you would have someone to rally you when you get down post-surgery. This would also ensure that your children are taken care of – as most surgeries would require you to have bed rest for at least two weeks, thereby prohibiting you from doing the laundry, cleaning, or lifting.
That's basically it. Next month we're going to talk about the different procedures you can consider when going under a Mommy Makeover. Till next time!