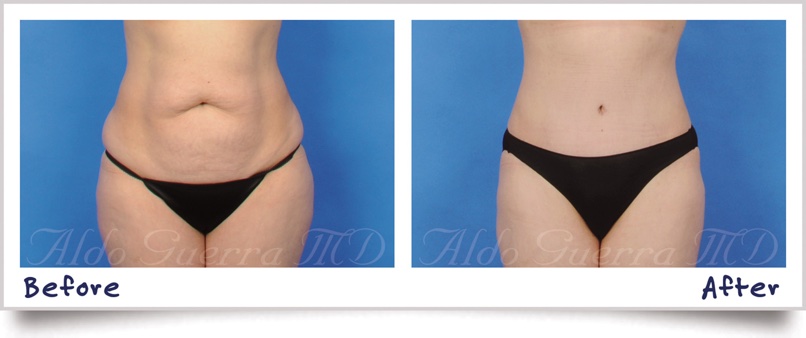 Tummy tuck is a very popular operation at Guerra Plastic Surgery Center in Scottsdale which entails removal of excess skin left over from pregnancy. The tummy tuck operation also involves the restoration of the abdominal wall muscles into their pre-pregnancy position. This portion of the operation is performed by suturing the stretched abdominal muscles back into position which unfortunately, can be quite uncomfortable. My patients rate this part of the operation as the most unpleasant part of the overall tummy tuck experience. Over the years, I have tried several formulations of local anesthesia to reduce the level of pain and improve the patient's recovery experience. Studies demonstrate that patients treated with local anesthetics during surgery seem to require less pain pills and can recover faster when appropriately motivated. In the past, local anesthesia injected into the area would only last 6 to 8 hours after surgery. This short period of pain relief falls short of expectations for both plastic surgeons and tummy tuck AZ patients. The search for an ideal local anesthetic that is both safe and is longer lasting has been a challenge, but recently we have used an advanced formulation which reduces pain significantly and is effective for up to 3 days after surgery.

Exparel® Long Lasting Pain Control Medication
This newer medication goes by the name of Exparel® and it gets very positive reviews from all my patients. Since I have the busiest breast augmentation practice in the whole state of Arizona, I have also employed Exparel® in most of my breast augmentation procedures with great success and positive reviews from this group of patients. The beauty of Exparel® is that it is a non-narcotic medication and is not addictive like some pain pills. The solution is a combination of local anesthetic (bupivacaine) which is attached to a fatty molecule called a liposome. Plastic surgeons are able to use this solution by simply injecting it into the area they wish to numb up. In my Scottsdale tummy tucks, I place the solution where I do the muscle tightening, but because there's so much available in each case, I can actually numb up the entire abdominal region and incisions for a far greater effect when compared to other methods previously used. Once the solution is injected, the liposome will hold the local anesthetic molecule in the injected area and slowly release the anesthetic dose which keeps the area numb for 72 hours.
In my patients over the last few years, I have seen the positive effects with patients using less pain pills, performing more activities that help them feel better like walking and being out of bed, and returning to work faster as well. The only side effect I have noticed has been some mild bruising at the site of injection. Of course, some patients have a better response to the Exparel® compared to others, but the overall trend has been very positive. Based on some questionnaires my patients filled out about their experience, I can say the average pain reduction for a tummy tuck was about 40 to 60% in the first 3 days. While the reduction in pain perceived for breast implants had a wider variation from 20 to 60% less pain. Those with breast implants bigger than 500 cc seemed to have less pain reduction with Exparel®, but still rated their experience positively. For these reasons, I believe this technique creates a dramatic improvement in pain reduction and is a game changer for anyone seeking to have a better experience and a quicker recovery after a mommy makeover, breast implants, or tummy tuck surgery!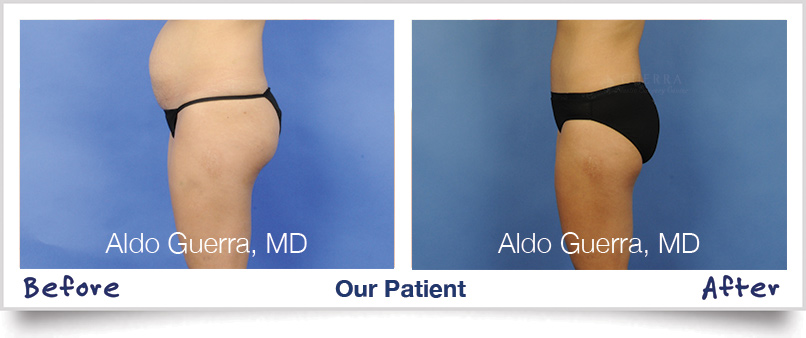 If you are interested in a tumy tuck in the near future and would like to find out more about Exparel long lasting pain control medication call us today at 480-970-2580 or schedule a personal consultation today!
Dr. Aldo Guerra is a board-certified plastic surgeon with a patient-first philosophy in Scottsdale, Arizona. His down-to-earth personality allows you to quickly become comfortable with the doctor. Upon your first meeting, he will take you through each step of the process and will stay until all your questions are answered. Dr. Aldo uses the latest techniques to achieve the beauty and results you desire. He specializes in breast augmentations, tummy tucks, breast lifts, body lifts, arm lifts and mommy makeovers.